---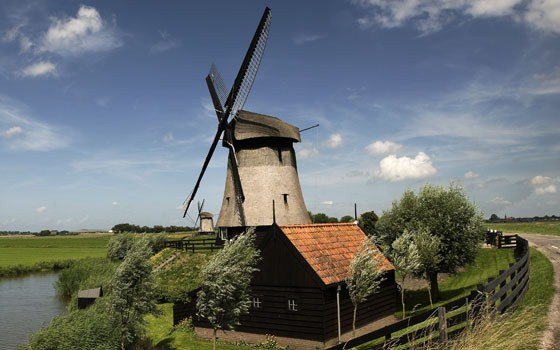 5 WAYS TO EXPLORE LAAG HOLLAND
In Holland, it's pretty easy to explore on a bike. While if you aren't in shape, it's not the best experience. So, we've discovered these 5 ways to explore the area just north of Amsterdam, called Laag Holland, to have an incredible and memorable trip to Holland.
On an epic press trip with the Laag Holland tourism board, I was able to try all of these methods and can confirm that each are good fun and worth doing whenever you are in the Amsterdam region!
5 WAYS TO EXPLORE LAAG HOLLAND
Rent a super cool e-bike
Let's start simple. An e-bike is perfect for just about everything in Holland–anyone who lives here would get around so easy. Obviously, a car is nice because it's protected from the elements. But, being on the bike path is just the best place to be in my opinion!
I'm sure you can rent e-bikes in various but the people are really nice and have some really nice bikes. Everyone I was with really enjoyed them. You can even get retro fat tire e-bikes! How cool is that?
Have a scooter experience
If you want a whole experience with a scooter, you could check out Scooter Experience. This place bring you in for a welcome and lay out the different options and routes while you have a coffee or tea. Loved the hospitality!
Zip around in a Renault Twizy
Looking for a quirky way to get around? The clever people at Visit Beemster managed to get some Twizys for visitors. These little green transportation pods are so cute and zippy. Who Doesn't love a zippy car! Best part? They are electric AND automatic. So it's perfect!
These vehicles are road safe but they shouldn't be taken on the highway since their top speed is only 50 mph. But they are absolutely positively friggin' perfect for drive around the Dutch country roads. Our little group would drive around and pull over as soon as we saw tulip fields. (Don't walk in the tulip fields, friends!)
They are tiny but you can fit two people in them. That is, if those two people aren't large people.
Get epic view with a helicopter ride
Is there a better way to see an area? I'm going to say….no. No, there is not. Because the views you get are incredible and quite literally, unbeatable.
You can take a helicopter ride here. They are incredibly professional and happy to take you where you wanted to go as long as it didn't get in the way of planes coming and going from Amsterdam Schiphol Airport.
When you go up, you can see some of the flower fields with their lines of bold color. You can take a look at the farming landscape that includes so many little canals that much of the farmland is basically made of islands!
If you're looking for a memory to last a lifetime, this is definitely it!
Explore by boat
If you come to North Holland (Laag Holland) and don't get on a boat, did you even come to North Holland (Laag Holland)? I'll let you think about that for a minute.
There are many ways to get on a boat, but I think taking a cruise from Monnickendam to Broek in Waterland and back is just magical. There are so many reasons why it's an incredible experience.
First of all, the natural beauty you see leaves you calm and peaceful. Livestock might pop by and say "hi" which is always a treat. The houses in this area might just be more charming than the Amsterdam canal houses.
Another fun way to see some sights is to take a boat out on the lake. The cool thing here is that you get to drive yourself and it's pretty much impossible to get lost!
Take a small motor boat, canoe, kayak, or even a little pedal boat out on the water. Enjoy a sunny day by taking it all in from a different perspective and be on your own timeline and go exactly where you want to go.
Doesn't that sound idyllic? Floating along on the Dutch countryside with the important people in life — it's just perfect!
There are so many ways to explore Holland. This area known as Laag Holland encompasses so many wonderful towns with such much to experience.
I hope you take the time to explore these towns because they are so wonderful to explore and if you want some real Dutch culture, it's the way to go. Take a day trip from Amsterdam or even make it a weekend.
For more information visit Europe DMC.
---