---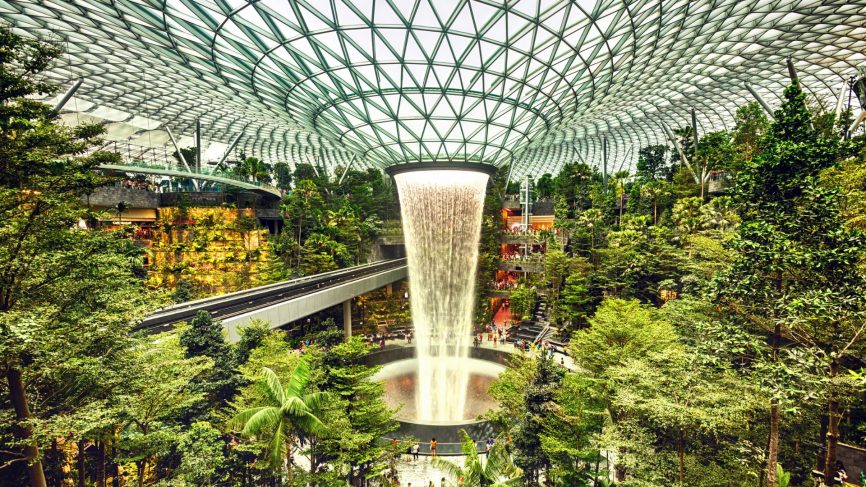 5 reasons why Jewel Changi Airport will amaze you
5 reasons why Jewel Changi Airport will amaze you. Already named World's Best Airport 2019 and for seven consecutive years by Skytrax, Singapore's Changi Airport has upped the ante recently by unveiling the Jewel. Designed by a team of architects led by Moshe Safdie (who also designed the iconic Marina Bay Sands), this spanking new complex with glass-and-steel facade, and covering 135,700 square meters, is going all out to wow travelers. So far, it's looking very impressive.
In this five-storey retail development complex (excluding another five basement stories), there is a tiered garden, a 130-room hotel, a multi-screen IMAX theater, and more than 280 retail and F&B outlets. At the center of it, is the HSBC Rain Vortex. At 40 meters tall, it is the world's tallest indoor waterfall.
The lush gardens are designed to convey Singapore's tourism brand as "City in a Garden" the moment a traveler steps into the airport. And because it's located just before the immigration and security areas, and connected to the Terminal 1 arrival hall, there is no way a traveler would miss it.
If you have a few hours of layover at Changi, we'd highly recommend a visit to the Jewel. Trust us, you'll definitely earn some bragging rights after this. And here are the 5 reasons why Jewel Changi Airport will amaze you
1. It has the world's tallest indoor waterfall
This seven-storey high waterfall is a magnificent feat of architecture and engineering, as it is designed not only for aesthetic purposes. From the rooftop, rainwater is harvested and then funnelled and cascaded into a waterfall, which then serves as the massive tiered garden's irrigation system. And if that doesn't impress you enough, the HSBC Rain Vortex is transformed into a light-and-sound show every night between 8.30pm and 10.00pm.
2. It is the latest architectural wonder
This distinctive dome-shaped façade looks like a fancy doughnut from the inside. Once inside, you won't even hear the sound of airplanes taking off and landing, thanks to the noise-absorbing technology in the thick glass of the overhead dome. On the outside, it is designed in such a way that light would not be reflected and distract nearby air traffic controllers.
If you're brave enough to walk on the 50-metre long glass-bottomed bridge, you'll be rewarded with great views of the HSBC Rain Vortex and the forest. The area also includes a play area for kids (and adults!) where you could bounce on suspended nets.
3. It has more than 280 retail and F&B outlets
Lucky for you, Jewel Changi has more than 280 retail and F&B outlets, including the famous New York burger chain, Shake Shack, which made its Southeast Asia debut here. Another first is the UK-based restaurant chain, Burger & Lobster. The retail experience incorporates some popular global brands such as Adidas, Levi's and Coach as well as the highly-expected Pokémon Center, it also features local brands such as In Good Company (clothing), Supermama (design and craft items), and Cookie Museum (local cookies).
4. It has superb R&R amenities
If you're feeling tired and need a nap, the pay-per-use Changi Lounge is designed to serve travelers who need a place to chill and relax before their flight.
Need a longer time to rest? The YOTELAIR Hotel has 130 rooms and can be booked for a minimum of four hours. Guests can either check in or out by themselves using the self-service kiosks, or head straight to the 24-hour manned counters. If you just want to freshen up before your flight, there are three shower cabins available that can be booked by the hour. Each of them is equipped with a standing shower, toiletries, towels and hairdryer. There's also a small 24-hour gym with a view of the airport.
5. It is a forest in an airport, really
The Shiseido Forest Valley is a 21,000 square meter space, with more than 900 trees and 100,000 shrubs sourced from Australia, China, Malaysia, Spain, Thailand and the USA. There are canopy mazes, parks and plenty of nooks where you can enjoy the sound of cascading waterfall, and have some breathing space away from the airport's hustle and bustle. By June, visitors will be able to enjoy the various attractions at the Canopy Park, located at the upper level. Here is where the themed gardens and floral installations will be exhibited. There will also a walkway lined with topiary and sculptures of birds, monkeys, elephants and other animals created by Jewel's team of horticulturists.
In Singapore for the first time, or looking for something new to do? visit these Singapore's must-sees and explore more of what Singapore has to offer by booking our activities here.
For more information visit Singapore DMC.
---