---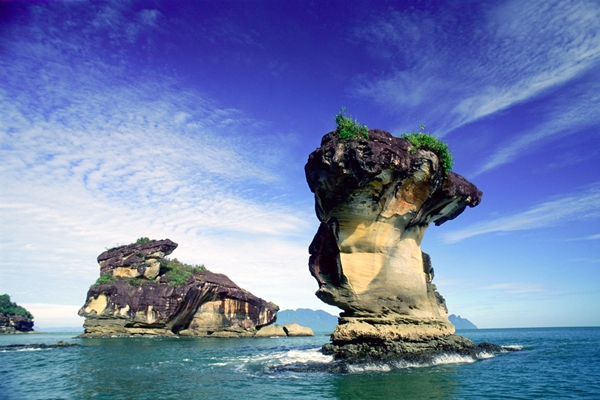 Things to do in Bako National Park
What's not to adore about Bako National Park, Sarawak? It has breathtaking views, wildlife, the shoreline and even a waterfall. Despite the fact that day trip is most common way to see the park. It is unquestionably not enough to absorb the excellence and uniqueness of it. However, if that is all you have, we have a list of things you should must do while visiting. Here are few Things to do in Bako National Park.
Things to do in Bako National Park
1. Catch the reflection
On the off chance that you've at any point needed to visit the Bolivia's Uyuni salt pads. It is known for its mirror-like quality, you may see a comparable variant of it toward the finish of your 20-minute boat ride. The view itself is amazing . It has rough cliffs, a reflecting surface catching the flickering morning sun. And maybe even a Bornean Bearded Pig meandering around – making it an ideal spot for selfies and pictures.
2. Chance to see Proboscis Monkeys
The male monkeys resemble your irritable, port-bellied uncle with a conspicuous nose. Charming however not to be disturbed, or they may very well vanish into the wild until they feel like 'seeing people' again.
Proboscis are local to Borneo and you will be unable to see it anyplace else on the planet, so you should need to get a couple of binoculars and begin your adventure early when they are all over the place the most.
You are lucky if you take a glimpse of these monkeys. Keep your eyes open all the time and remain alert for any sounds you may hear around you.
3. Spotting the Bornean Bearded Pig
Prior to meeting the surly uncle, you likely would have run over a couple of hairy pigs that look delusive and unconcerned.
You might need want to take out your cameras and get as close as feasible for a snap, yet be mindful so as not to leave any snacks around in light of the fact that they can charge at you at a moderately fast when they see food or feel threatened.
These are a captivating sight and make sure you respect nature – keep your eatable items wrapped up, don't toss trash where they don't belong and don't aggravate the wild life during your visit.
4. Colorful and unique birds
If you love birds, you are in for a treat! There are more than 150 types of birds that have been recorded at Bako. From flycatcher to kingfishers  and owls, you will see variety of vivid birds here.
Try to remain as quiet as possible and perceive what number of species you can discover and identify amid your track. You can spot them picking at the mud close to the mangroves, fluttering from tree to tree in the forested areas or simply laying on tree limbs.
5. The mangroves
As you reach the start of the trails, you will pass a mangrove woods which is home to variety of flora and fauna not found in some other sorts of timberlands.
Detect the projecting roots of the trees and beautiful crabs that walk the sloppy surface! In case you're fortunate, you may even spot some Oriental Small-clawed or Hairy Nosed Otters so play close consideration when you're close to the mangroves.
Different creatures you'll see here are a few types of monkeys, bats and lizards.
6. A carnivorous… plant?
What makes the pitcher plant so unique, other than the manner in which it looks, you may inquire. The appropriate response is it's one of only couple of carnivorous plants that you can discover on the planet. The plant traps insects and animals into its profound depression containing a digestive fluid, where the nourishment stays for a couple of days before being separated completely.
Get a more intensive look and you may even observe dead creepy crawlies in the insides of the plants!  Lookout for it as you reach a plain with uneven rock developments amid your hike as the pitcher plants are most effectively found there.
7. Telok Pandan Besar and Kecil trails
Two of the most prominent trails among the day trip hikers, Telok Pandan Besar and Keci. They are effectively trekked and offer astounding views along the way just as toward the finish of the treks.
Initially go to the further Telok Pandan Kecil for the view and pictures, before going to Besar. Rather than beautiful viewpoints there isn't a lot to do.
A climb on Pandan Besar, then again, offers you the chance to appreciate the beach, yet in addition take a baot ride back to the primary jetty so you don't need to backtrack your steps to visitors center.
Do check with the ranger service staff before you take a dip, as most of the times it is prohibited because of sightings of saltwater crocodiles.
For more information visit Malaysia DMC.
---