---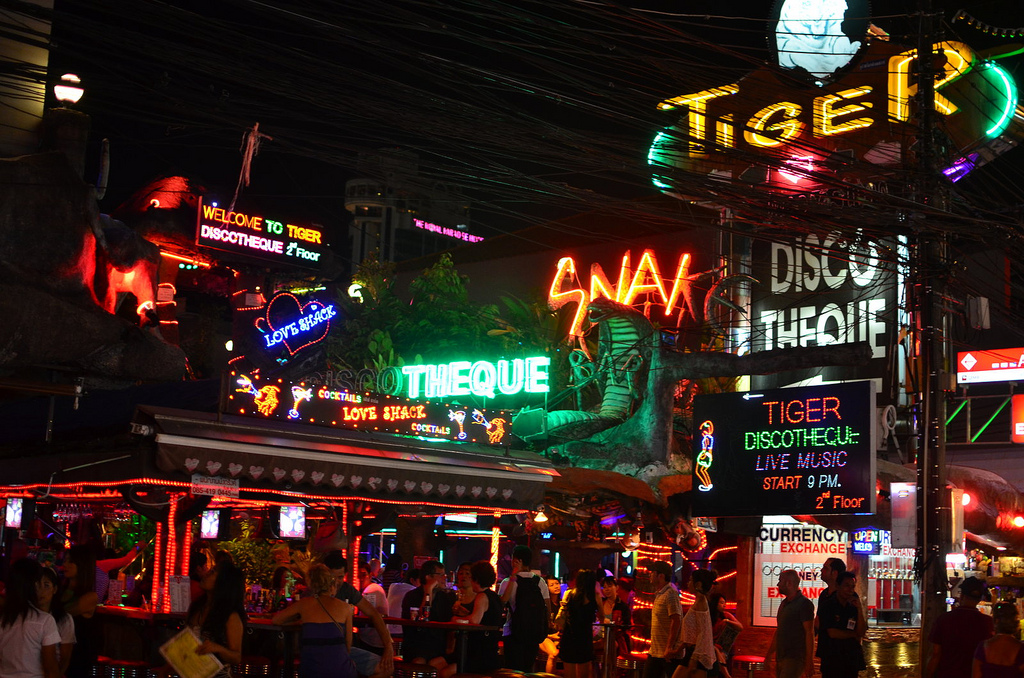 Nightlife in Phuket
Phuket has beaches, views, and other attractions. What more could you want? Nightlife. You asked for it and you got it. Here are the places where you can enjoy Nightlife in Phuket.
Bangla Road
The main nightlife stopping place in Patong and the whole of Phuket is Bangla Road. Most of the people come here at night to experience the colorful and energetic nightlife of Bangla Road.
On a day time, it seems like a simple road with shops and food vendors. But, when the sun sets and the beach is no longer the main attraction, this road comes alive. Music and lights lit this place. Girls, Bartenders and promoters are prepared to be in their position.
No other nightlife place is like this one. When you enter Bangla Road, you will instantly feel the energetic and happening nightlife aura. Clubs and Bars are just beside each other and music energize the place.
Beach bars at Kata
For a (much) more relaxed vibe, head to Kata Hill overlooking Kata Noi Beach, where three little bars invite chilled out beach-bum types to sip cocktails while watching the sun go down. The bars here–After Beach, Small Viewpoint and Baan Chom–all play Bob Marley music on loop and have fantastic sunset views.
Simon Cabaret
Situated near Patong Beach, the Simon Cabaret hosts the most respected lady boy shows in Phuket. It is an attraction in Phuket in its own particular way. The show includes some beautiful sets, amazing outfits, and some of the most glamorous entertainers in the business, so it is not hard to perceive any reason why it's turned out to be one of Phuket's primary attractions.
Phuket FantaSea
For a family night out, head to the Phuket FantaSea Show, It has its own theme park complex. This famous nighttime attraction highlights exotic creatures which helps in telling a conventional Thai story mixed with new modern technology. This vast complex additionally houses carnival games, a shopping village, and a spot to enjoy dinner.
Siam Niramit
Situated in the outskirts of Phuket Town, the Siam Niramit show is another family-friendly show which celebrates the Thailand's history and culture. With expound sets, surprising effects, and a skilled cast, Siam Niramit is one of the most popular shows in Phuket.
To really enjoy Nightlife in Phuket, visit Thailand DMC.
---